Often hostesses don't have time to think about the unique baby shower favors as they have many tasks to take care of first before the big day arrives. They leave this task for the last minute however it is one that can't be forgotten or taken lightly.
Many variety of favors out there, especially online.  You can make a homemade one also, but you will need to buy couple small items such as a favor box or goody bag.  Enjoy reading this page there are tons of ideas!
Unique Baby Shower Favors
These favors are a small token of appreciation to the guests for coming and bringing gifts for mommy-to-be. It's a nice momento of the special occasion.
Here's to 10 perfect fingers and toes tags
A good example are these personalized hershey kisses with stickers (with wording such as Hello Handsome! Meet Baby Boy + Baby's Name or Hello Gorgeous! Welcome + Baby's name).  Can't go wrong for either baby shower favors for girls or baby shower favors for boys.
Personalized Baby Shower Hershey's Kisses
Get your guests something they can use everyday such as this manicure set;


  Manicure Set
DIY Baby Shower Favors
They don't need to be expensive nor extravagant, just simple items that can be ordered in bulk, and then personalized by hostess (or already personalized by the store).  Many of these favors can be DIY. Check out my post on more baby shower favor ideas.
Baby Shower Sugar Scrub Favors
Or create your own sugar scrubs in a small mason jar and add these pretty burlap pattern baby shower stickers/labels.
As mentioned in our baby shower theme section, coordinating a shower with a theme in mind is very useful. In this case, it helps to find the suitable favor to match the theme, therefore you don't have to search all over the place for favors.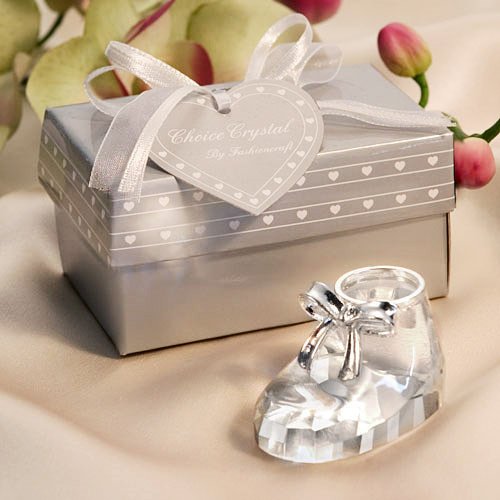 Crystal Baby Bootie Keepsakes
Do it yourself baby shower favors are pretty simple gifts you can make.  With pink or blue colored chocolate almonds, baby shower candies such as pacifier candy, jelly beans or other, you can fill any jar, box, party favor bag or mini bottles.
Personalized Baby Shower Favors
You can make your personalized favors or you can buy them online.  Some are expensive but some are very affordable custom baby shower favors ( some UNDER $2  and some affordable custom ones).  You can have pens, soaps, kitchen items, …the possibilities are endless.
Printable baby shower favor                             EOS lip balm – Bulk
Another variations are Elephant, hot air balloons, tea pot, balloon
However we know that if you chose a unique theme it might be hard to find the matching favors. If you fall into this category, then there are many baby shower favors that can be chosen which will match any theme, such as this printable card for EOS lip balms (they offer different lady designs and color). Just cut out with a 1.5″ circle punch and add EOS lib balm which you can buy in bulk here. They come in different flavors, so you can match to the card.

Personalized Baby Shower Sticker & Labels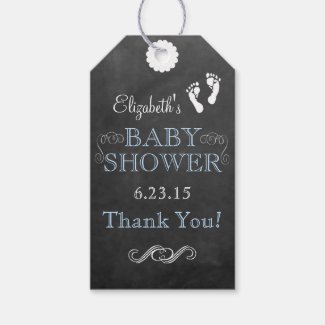 Personalized Baby Shower Gift Tags
Here a some more unique baby shower favor ideas you can make yourself and save!

Personalized Baby Shower Favor Pens 
Custom Baby Shower Favors
Cost Doesn't Matter But Time Does! When planning a shower, your time is precious and must be used wisely. Searching for the perfect baby shower favor is not crucial nor does the amount of money you spend on it. You don't have to spend a fortune on custom favors to make it special. Especially with some of our DIY baby shower favors.  You can easily make them and use personalized baby shower stickers/labels. Here are some beautiful but affordable baby shower favors UNDER $2.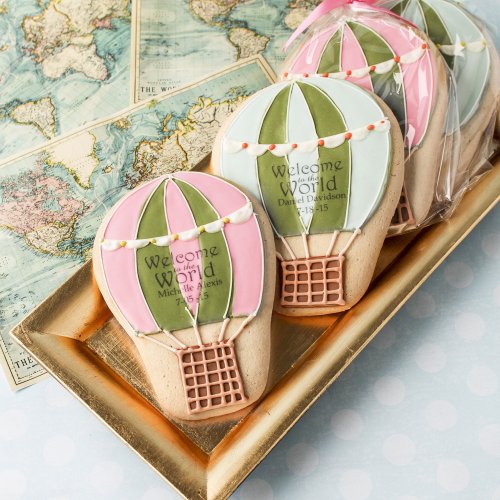 Custom Baby Shower Cookies
Homemade Baby Shower Favors
If you are crafty or good in the kitchen, why not create your own.  Use your imagination, they can be just about anything.  It does not have to follow the party theme, but it would be nice if it would be 🙂 How about some simple rice crispy treats dipped in pink chocolate, add some nice sticks of even fancy paper straws, wrap them in cellophane bags, bow and tag – finished!
Where To Buy Baby Shower Favors
Surfing the web can be a good source for baby shower party favors. There are many online stores that sell or give ideas for the cutest favors. And if you are pressed for time, the internet is the way to go. However, be aware that not all stores are reputable and/or provide high quality and inexpensive baby shower party favors. I have listed as best as I can on favors that vary from the least expensive to the most sophisticated. So depending on your budget, I'm certain that you will find the perfect party favor for your event.
Baby Shower Party Favor Ideas
There are infinite party favors for this type of event, you can go cheap or extravagant.  That is up to you and of course your budget.  Few more ideas here: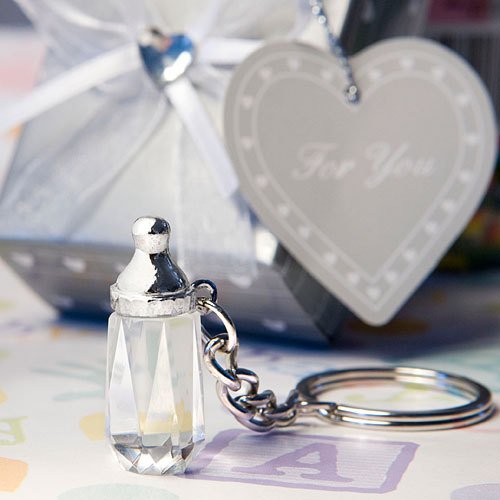 Mini Crystal Baby Bottle Key Chain
Pastel colors are always a good choice for colors. You can make your own favors by buying in bulk, bath beads, soaps, mints, or candies in pink or blue (or green and yellow if sex of baby is not known), wrap them in matching mesh fabric and tie the bundle with a ribbon. To add a little touch, you can also attach a little plastic items (attach it when closing the ribbon bow) such as pacifiers
. Also a note or baby shower favor poem can be added.
Miniature Baby Shower Favors
Miniatures favors are always a good idea (tiny things for tiny baby). There many miniature favors such as common baby items, toys, pacifiers, baby bottles, teddy bears, etc.
Remember that your guests took their time to shop for a perfect baby shower gift and spend with mommy-to-be on special day. Presenting your guests with baby shower favors is a nice way to say "Thank You" for your time, gifts and well wishes.
So don't worry that you haven't found the perfect favor just remember that it's the thought that counts.
Back to –> Baby Shower Ideas