Most of baby shower parties require party supplies and a theme, if you are looking for some theme ideas you can find them here.  With a theme in mind, you can purchase personalized baby shower stickers with mommy-to-be's name, date and 'thank you' for coming.
Stickers are often added to guest favors, envelopes, goody bags or even on cupcakes toppers (tip: add sticker to round card board and glue them to lollipop sticks).
There are tons to choose from, from different patterns, colors, sizes.  You can also find simple labels in traditional pink for girls or blue for boys.  They can be printable or already made, I prefer pre-made as they are cheap.  You can find discount and wholesale prices online here.
Here is a list of personalized or custom baby shower stickers you can choose from;
Baby  Shower Stickers for Girls and Boys:
These are simple (no theme) for baby shower party. Pretty yet simple with small heart or confetti.  Or trendy and modern with faux gold brush stroke.
Ready to Pop:
If your theme is READY TO POP, get matching invitations here.  Stickers can be bought ready made as per below.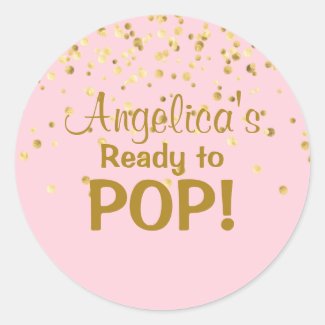 Personalized Ready to Pop Baby Shower Girl Pink
Nautical:
Popular theme is the nautical one.  Navy blue, white and gold colors are the standards.  Multiple stickers available.  Many have stripes and anchor as décor. See Ahoy It's a boy invitations here
Elephant:
Who doesn't love those big floppy ears of a cute elephant?  Cartoon or watercolor design, here is a list.
Princess:
For that little princess, there are many favorites of mine.  Of course pink or rose is the typical color, but can also be lavender or purple.  Match with baby shower princess invitations.
Prince:
For that royal prince theme, blue and gold colors are mostly selected.  Glitter and crowns are also part of this theme.  Check out some of them here;
Sports:
Sports baby shower theme is very popular for boys; football, soccer, baseball and basketball.
See this sports collection here


Votive candle stickers:
Here are a few labels you can add to votives.  Buy candles with glass votives and add these stickers with cute poem.  Wrap them with cellophane paper or tulle.
If baby shower stickers are not what you looking for, maybe baby shower favor gift tags