Everyone likes baby showers even if they don't admit it! It's a time to socialize with friends, and give mom-to-be best wishes and memories. A baby shower monkey theme can be what you are looking for and it's one of the modern themes out there, and it's a great unisex theme too. The one type of monkey theme that is getting popular is Sock Monkey.
Yes, planning a baby shower can take many hours to prepare, and there are a lot of decisions for the hostess to make along the way. However, at the end, all your efforts will be rewarded and having an overall theme for the baby shower makes your tasks organized.
Monkey Themed Baby Shower Invitations

Printable Monkey Baby Shower Invitations
Wonderful invitation cards can be sent out to guests with monkeys on them. Wording can be simple and cute just like:
Happy mommy-to-be
is swinging from the trees
Monkey see, monkey do
You are invited too
You can buy printable invitations cards and print them out on your computer.  These will be personalized for you.  Invitations are also available in the bundle packs (which include plates, napkins, etc).
Girl Monkey Baby Shower Invitations
Baby Shower Monkey Theme Decorations
Decorate with monkey style! Now, this is the fun part to decorate the venue. If you think about monkeys, you think about palm trees, jungle, bananas, the colors brown/green/orange, curious George, etc..
Girl Monkey Baby Shower Decorations
So base yourself on this and you can decorate your room with the color palette you have chosen.  Unisex can have yellow and brown as the primary, for boys blue and brown and for girls pink and brown.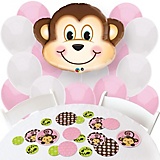 Monkey Girl – Confetti and Balloon Party Decorations – Combo Kit
You can go wild with all types of decorations.  You can buy ready made ones or you can make your own.  Some baby shower ideas for DIY are palm trees, bananas on the table with a stuffed monkey animal as a centerpiece.
Balloons and streamers are always easy to find and are a great way to decorate your place inexpensively.
For some extra touch you can have some jungle music in the background
Here is a great package that has everything for a monkey themed baby shower. It can be in pink or blue.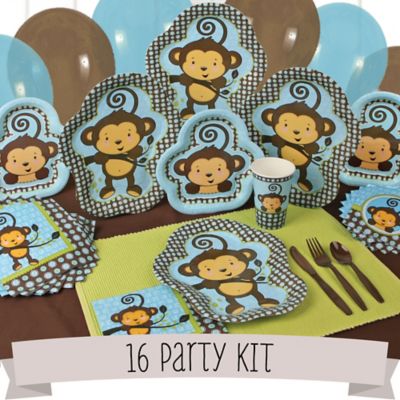 Monkey Boy – 16 Person Party Kit
Baby Shower Favors
If you are looking for ideas on monkey theme baby shower favors, I have found few for you that can help you put together these little thank you gifts for your guests.
First would be bulk Hershey chocolate kisses with monkey stickers that you can purchase here.  You can place them in any type of favor bag.
Another idea would be mason jars with personalized stickers.  These are actually less than $2! You just have to by the candy you like and it makes a perfect little favour.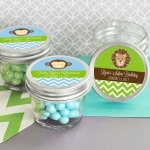 Personalized Baby Shower 4 oz. Mason Jars
Lastly you can get these pretty labels for TIC TACS.  You receive a pack of 28 labels and you stick them on. You can find TIC TACS in bulk here (they are approx. 72cents each).
Baby Shower Monkey Stickers for TIC TACS
Baby Shower Monkey Diaper Cakes
Diaper cakes can be added to your decor as a centerpiece on the main table or even mini diaper cakes on each guest table.  And after the party, the mom can keep them as she will need many, many diapers when baby will come!
Monkey Baby Shower Diaper Cake
Sock Monkey Baby Shower Diaper Cake
Monkey Food
But of course, go with banana cake, or banana splits for dessert. Other foods can be appropriate like Brazilian nuts placed in bowls around the table.  You can buy these little plastic monkeys and decorate them on cupcakes or even as party favors.
Sandwiches can be cut out in monkey or banana shapes with the help of cookie cutters.
Baby Shower Games
There are tons of games out there for baby showers, but if you are looking for a particular monkey theme game, you can find some that are printable.

Printable Monkey Baby Shower Games
One you can create yourself is pin on the monkey (instead of donkey).  Have a big picture of a monkey and create a banana shape for the pin.  Blind fold the guests, and let them pin the banana on the monkey tail!
Hope you enjoyed the monkey theme baby shower and can maybe send your creations for everyone to see!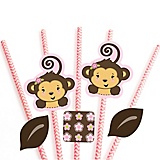 Monkey Girl – Baby Shower Do It Yourself Straw Decor Kit – Set of 24