I love this theme as it can be for both sexes and even neutral.  In fact not only can it be for baby showers but you can surely have this theme for a 1 year old birthday party.
You will find many decor ideas for this theme.  I hope to list them all for you here and inspire you to throw the best baby shower bash ever.  Elephant themed baby shower decorations  are also easy to find on the internet.
Ok, so what do I have to show you are the following starting with invitations.
image credit Rachel J
Elephant Baby Shower Invitations
You can find many beautiful invitation cards that you can buy and fill them or get a template and print them on your own or have them done with a added touch.
Here are a few I have found that you might like:
     Elephant Baby Shower Invitation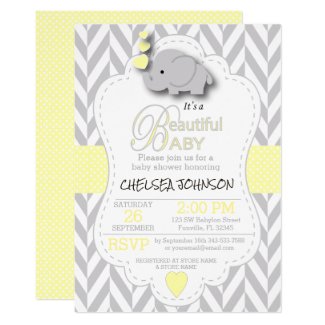 Yellow, White Gray Elephant Baby Shower Card
Cute Polka Dot Pink Grey Elephant Baby Shower GIRL Card