This theme baby shower is used more frequently during late spring and summer months.  It can be both for a boy and a girl.  A great outdoor shower party!
So here are few nautical theme baby shower decorations and ideas to hopefully wow your guests at your party.
Invitations for Nautical Baby Shower:
When you make a decision on what sort of party invitation you would like to send there are several one of a kind ways to work with for this nautical theme. You can buy online or you can make your own. How about making a treasure map card or, card shaped as a sailboat? Buy lovely ornaments which you can use your hot glue gun and stick on the invitation card. This will surely impress your guests!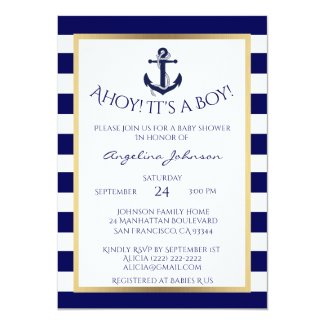 Nautical Baby Shower Invites – BOY
Ok, I find these nautical baby shower invites stunning…
If you have a blank card, and want something to write ….Here are some wording suggestions:
Ahoy! It's a Boy!
Come and celebrate the joy!
ring a gift or a toy,
Mommy and Baby will surely enjoy!
Sail Away with Us
On our new adventure
Join us for Mary's and Bob's Shower,
But don't forget to come on the hour!
Nautical Theme Baby Shower Decorations
image credit Rosy's Manor
Click on the pictures to see if you can use these items to get that perfect nautical look as above! Or find a list of nautical items here.
Suggested color hues:
For Boys: navy and white, accented with either yellow, red, or light blue
For Girls: navy, pink and white
Nautical Paper Lanters – set of 3
Fix the space by including different shades like deep blue and bright white together or try out other hues of blue/pink. Some great items you can implement for decorations include nettings, sailor man caps, ropes, paddles, seashells, anchors, a captain's steering wheel, starfish, round life preservers, lighthouses and more.
Nautical Baby Shower Decoration Kit
Putting miniature sailboats or even messages in a bottle are also great suggestions which will complement the actual theme.  Have each guest write a message to the parents (such as wishes or parenting tips) and put in the message bottle.  You can locate this on a small table at the entrance; so instead of a sign in book you can have these messages.
Some more nautical baby shower decorations here
Nautical Baby Shower Tableware
Complementing table cloth in white or navy with cups, plates, napkins.  Here are some suggestions for boy and girl nautical theme baby shower supplies.
Nautical Baby Shower Centerpiece Ideas
A great idea for a centerpiece would be a tall light house decorated with the colors mentioned above and top it off with a tea light in a small tea light holder.  You can also stack clay flower pots upside down (about three) to make a shape of a light house, paint them in white and blue and add the light on top.  Surround this centerpiece with fresh flowers in a wreath form or sea shells and sand and you have yourself a beautiful nautical centerpiece
Lighthouse Tea Light Holder
Another easier centerpiece would be fill sand in a large vase and place pillar candle in the middle.  You can add sea shells and ribbon for additional decoration.  Place the centerpiece on a square or round mirror to give a larger effect.
Other centerpiece ideas would be a mini sailboat or Captain's Wheel diaper cake such as below;
Mini Sailboat Diaper Cake      Captain's Wheel Mini Diaper Cake
Nautical Baby Shower Centerpiece
Nautical Baby Shower Favors
LOVE, love these nautical baby shower stickers!  Personalize them as you wish.  You can use them anywhere, even as cupcake toppers! (just stick them on card stock and voila!)
Have an interesting party favor, something like mini sailboat candles. They're quite functional given that they work extremely well as decoration and as take home gifts, which in turn saves you a little bit more money and time. It's a wise decision to stop by a craft store, or browse for one on the web, to start certain creativity and reveal those talents in motion.
On a budget? Consider making cookies created in forms of lighthouse, anchor  or a boat.  Here are a list of
nautical baby shower cookie cutters
; you can have sea shells, whales, crabs, anchors, sail boats, lighthouses, etc…This is great decor on the buffet table also.  You might quite possibly send your invitees home along with a bag of goodies as a party favor. Package them in a
nautical cellophane party bag
with a custom-made label and then combine it with a ribbon or rope.
I love these nautical theme favor boxes, you can put candies or maybe even a mini scented candles.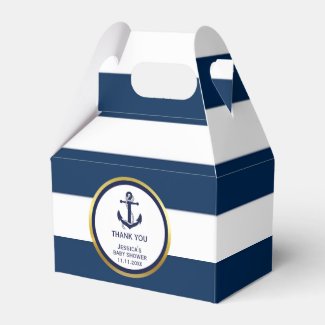 Continuing with homemade baby shower favors, another great idea for a favor are mini Chips Ahoy cookies!  That's right they are already individually packaged.  To spruce it a bit you can place them into plastic favor bags with and attach them with rope or navy/striped ribbon.  You can also add a tag with a saying such as "
Thank You
" or "
Terry's Baby Shower
".
mini Chips Ahoy
Or if you like to give more of a practical gift to your guests, here are a couple that be useful; a bottle opener or a bottle stopper
Nautical Stickers for Hershey Kisses or Small Chocolates/Mints – qty 324
For even more luxurious party favors, you possibly can give out crystal sailboats or any other crystal favors.
Nautical Baby Shower Food Ideas
Of course, you might serve up just about any sea food. Crab or tuna salad offered on biscuits are a great appetizer. A few other food suggestions are: Crab cakes, shrimp cocktail, seafood rolls.
For the buffet table, commonly the punch bowl is the focal point. Simply include some blue food drops, and maybe also put a few little floating plastic species of fish. My final tip would probably be to cut-out the food items (like sandwiches) into different nautical.  You can use the cookie cutters above.
Nautical Baby Shower Cake Theme
And as for the cake, I like to have individual cupcakes for everyone with cute nautical cupcake picks and these nautical cupcake liners.  But you can surely make one big fondant cake for everyone to enjoy!
nautical cupcake picks
Another idea for the snack buffet would be popcorn in these little sailor popcorn boxes!
sailor popcorn boxes
In the event that the guests question you exactly what to offer for a gift, be prepared with a list of baby shower items the mommy to be might need. Lastly, nautical themed baby showers happen to be simple and with a very little creative imagination you will be able to organize the greatest shower. I hope you enjoyed the nautical theme baby shower decorations and ideas! Ahoy!
Printable Nautical Baby Shower Games