When celebrating the birth of a new baby girl, mommy-to-be will most likely expect a baby shower. If you are the hostess, one popular and adorable shower is the princess theme. You can't go wrong with this one as you probably can remember being a little girl and always wanting to be a princess.  
image credit: @mirrormirrordesigns
I will be giving you some great ideas that you can buy and/or make yourself (check out my DIY section that might give you also some more ideas).
image credit blown away services
Luckily there are numerous different and cute princess baby shower decorations you can chose from.  I will be listing them as much I can on this post to help you find the decor you are looking for.

Princess Baby Shower Theme
As mentioned above, there are few princess themed baby showers.  Here are the ones I found.  Pick the one you like best and start from there with the matching party supplies.
 Little Princess
Royal Princess
Disney Baby Princess
Princess and the Frog
If you are looking for a particular princess, check out Disney Princesses, such as snow white, Cinderella, Aurora, Ariel, Belle, etc…
Princess Baby Shower Decoration Bundle
It might be a bit more difficult to find a particular princess theme decoration, but you can always combine a few together.
Let's start with the invitations.
Princess Baby Shower Diaper Cake
Princess Baby Shower Invitations
Many stores have princess theme cards and some come with the bundle pack.  You can make your own if you like. You can be creative and get some pictures of princesses, add them to the card and write a few words to represent the theme. Maybe something like this?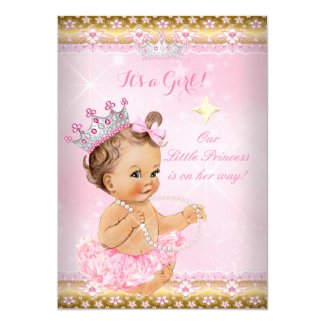 Come join Kate's Baby Shower
To welcome her new princess
At 4 O'clock, that's the hour
So don't be late to see her gratefulness.
Princess Baby Shower Invitations – Pink & Gold
Baby Shower Princess Decorations
Recreate this lovely centerpiece with fresh flowers in a vase (you can add some plastic crystals in vase for some more effect) and add a tiara.
image credit blown away services                                      Tiaras in Bulk
Ok, so now that you picked your princess theme and invites, here are some party decorations I found.
Gold, Ivory, Pink Tissue Poms Poms – Assorted Sizes
Crowns or tiaras are a must for this theme. A room can be brought to life with princess decorating items such as wands, carriages, candles, balloons, etc… Needless to say that mommy-to-be should have her own crown and wand and especially for the pictures.
If you have a big wall to fill up with decor, these rosettes can be an option , you get 6 rosettes plus rosettes with letters.
Here is a bigger banner with wording, such as, It's a girl or Baby's name.  This would be the main banner that you can hang where the main focal point will be.
Circle garlands are one of the modern decorations out there. You can surely make these yourself. Vertical, horizontal or across – how ever you hang them they will look great.
A small carriage with flowers is a wonderful centerpiece and simple to make. Or you can buy this pretty candle holder carriage, it's 9″ inches high.  Instead of the candle you add some fresh pink and white flowers to make a bigger impact.
Depending if you are going for the pastel pink and gold princess theme or the damask hot pink/black, there are many decorations you can find online that can help you have the most beautiful princess shower you ever attended.  They can be paper lanterns, helium balloons, crepe garlands and banners.  Few are as shown below.
Princess Balloons with Glitter
To make mommy feel like queen as she will be having her princess soon…don't forget the Tiara and Wand!
Love this sash with the saying 'Growing a Princess'
Princess Baby Shower Plates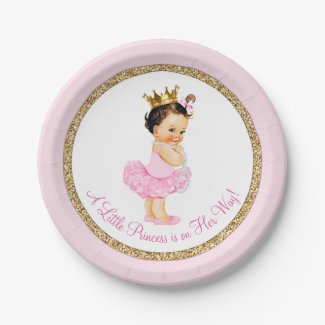 Pink Girl Princess Baby Shower Plates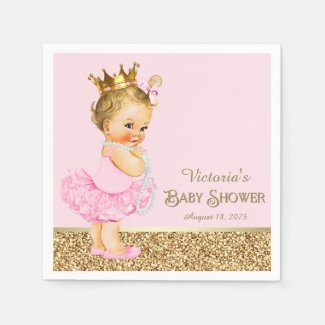 Princess Baby Shower Paper Napkins
Royal Princess Baby Shower Tableware
Tableware is important both for the main course and for the desserts.  Along with that, napkins and cups should match also.
Lastly you can have them personalized. These make the party extra special with the baby girl's name.
Tablecloth to cover the main buffet table or candy bar can be purchased in plastic or cloth.  A wonderful idea is to wrap the table with pink tulle to look like a tutu/princess skirt.
Princess Baby Shower Food Ideas
Food for a princess? You can decide what this can be, but rest assured a princess cake is required, how about a cake shaped as a castle!
You can make cookies in shaped of a crown, castle or 'glass' slipper' or cupcakes with a chocolate pick in shape of crown or check the above pic with those mini tiara cupcake toppers – simple and pretty!  Here are some you can use (remember that you can use these cookie cutters on sandwiches also!)
Princess Cookie Cutters
Princess Baby Shower Favors
Favors are always something I like to do as these are one of the items I like to make myself, well partially at least. You can find some more ideas for baby shower favors under the FAVOR tab.
Fill any favor bag or box with these hershey kisses with a crown on them – perfect theme addition;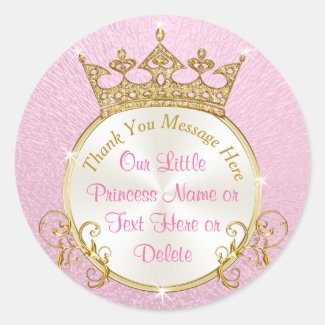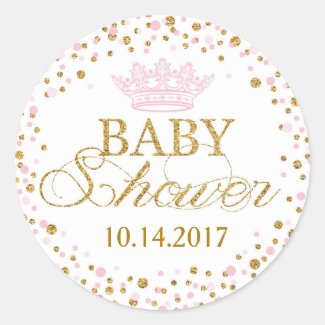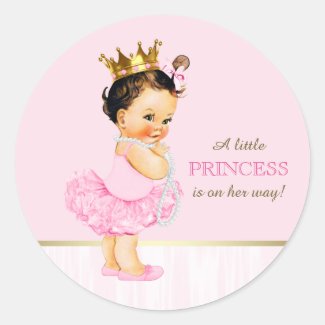 Princess Baby Shower STICKERS & LABELS
Simple favors you can do with the below favor boxes is add some candies, mini candle or any other item that can fit in this box.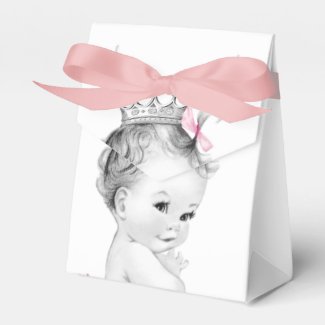 Princess Baby Shower Favor Boxes
 Other options are  these Princess Coasters  and Princess Glasses, always useful to have around the house;
 And lastly you can have these pretty slipper favors or mini carriage treat boxes that you can add few pink Hershey kisses that you can buy in bulk.
Lastly, don't forget the unique baby shower games and prizes for the guests.  Entertaining guests are always a must of this type of occasions.
You can get themed princess baby shower games below;
Printable Princess Baby Shower Games
Good luck with your baby shower planning and I hope these ideas inspired you to make a memorable party for the mom's little princess!
Oh! if you are just looking for some gifts…here is a cute one!