There is nothing like a little prince for boy baby shower.  Royal blue is one of the colors hostesses chose for their party.  The colors you would coordinate with are royal blue, gold and possibly white/cream.  Below picture is example of a party with royal prince baby shower decorations with royal blue.  This was held in Africa, the couple is from Tanzania. The baby showers in South Africa are mostly called 'stork party'.  As you can see the colors were royal blue with gold.
image credit: Ivy Amanda
There are many other variations of prince baby showers such as the 'new little prince'.  Whatever you chose, coordinating all the decorations for the event is important.  This little prince below decor is very majestic with the light blue and gold.  Love the look of the backdrop with drapes and cutout castle.
image credit: @mirrormirrordesigns
Here is a list of backdrops for a prince theme – perfect for pictures and makes great memories.

Personalized Royal Prince Baby Shower Backdrops
Prince Baby Shower Invitations
Start with a list of guests and  invitations with that specific theme. Here is a perfect one you can print.  You can send them individually to each guest via mail, or send them electronically.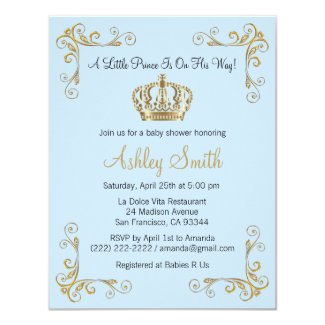 Classy Gold and Blue Prince Baby Shower Invitation
Prince Baby Shower Decorations
Depending how big your room or hall is, you must budget that appropriately.
Prince Baby Shower Welcome BANNERS
Prince Baby Shower Bunting Flags Banner
Decor for a small room is much cheaper than a huge hall for let say 100+ guests.  You have to consider filling up the hall so it looks embellished.
Royal Prince Baby Shower Decorations
Make your own centerpiece with these plastic crowns.  These come in a dozen, half silver and half gold.  If you will not use silver as the color you can always spray paint them.  These were added to simple vases filled with party bead necklaces.  You can enhance with fresh flowers or place it on a mirror for the light to reflect. Place them on each guest table and you are done!
I find this centerpiece really cute and simple to make if you are a bit crafty.  If you want to buy them here is the link
Prince Baby Shower Centerpieces
Continuing with the above party, the table was nicely decorated with big bouquets of fresh flowers and balloons.  To add more decor, the chairs were partially wrapped/tied with fabric.  Few of the chairs had lighter blue angel wings.
Hang these pompoms and accordion lanterns all over the place. This is an inexpensive way to add decor to the place.
Blue and Gold Baby Shower Decoration
Prince Baby Shower Cupcakes
The dessert bar was simple, with a 3-tier cake and a crown on top.  Additional cupcakes with fondant mini baby boys on them.
Royal Prince Baby Shower Cupcake Picks
Another variation of these cupcakes with be with these cupcake crown toppers.   Easy and pretty.  They come in 100 pieces so you will have enough to make lots of cupcakes.  You can also use them to glue on invitation cards.
Cupcake Crown Toppers – qty 100
Prince Baby Shower Favors
Here is an easy favor you can make with these glitter crown stickers  and jars.  Fill them with any candies or chocolates and you add a tag or sticker.

Use personalized baby shower stickers / labels for your favors. Stick them on gifts, cards, envelopes or even cardboard and cut them out add them to a little stick and add them to your cupcakes – great idea!

Personalized Royal Prince Baby Shower Stickers – 1000's to choose from!
Personalized Royal Prince Baby Shower favor tags
Hershey kisses are always a great idea for favors or even have a bowl on each guest table.  Get these stickers with royal theme.
Hershey Kisses Stickers for Prince Baby Shower – qty 324
Make or buy favors and add them to these baby shower favor boxes or bags.  Adds additional decor on your table.
Personalized Royal Prince Baby Shower Favor Boxes
Personalized Royal Prince Baby Shower Favor Bags
Get these personalized chocolate wrappers and print them.  Great for any chocolate bars you like.
Printable Chocolate Bar Wrappers
If you will have a big cake instead of cupcakes you can always make the cake simple (or even bake it yourself) add some white frosting, with royal blue editable sparkles and add this personalized cake topper.  This will surely wow your guests!
Prince Baby Shower Cake Topper
This crown can be used for either a wonderful cake topper or as shown here with a diaper cake.  Make your own and save!
You can easily recreate this theme by purchasing few decor items such as balloons, confetti, paper rosettes, poms poms, etc…you can find a long list of PERSONALIZED royal prince baby shower decorations HERE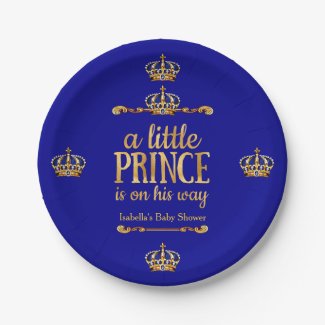 Prince Baby Shower Paper Plates & Napkins
Personalized Prince Baby Shower Napkins
Add some more glam to the party with these royal plates!  Love the gold glitter.
Personalized Royal Prince Baby Shower Water Bottle Labels
(ok love this growing a prince sash for mom to wear – what a cool idea!)