One of the popular and classic themes is the rubber ducky theme. There are many fun rubber ducky baby shower supplies out there and this theme can be used for both boy and girl.  When you think about baby ducks, you think about bath time so rubber ducky products can be easily found everywhere especially online.
image credit My Little Angel Decorations
Main colors for this theme is blue and yellow. But now you can also find pink rubber duckies if you would like for a girl party, so you can have pink, yellow and blue (duckies need some water!).
Blue Rubber Ducky Balloons
Pink Rubber Ducky Balloons
Rubber Ducky Baby Shower Invitations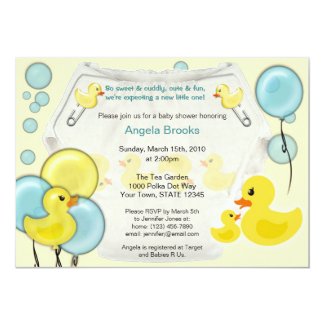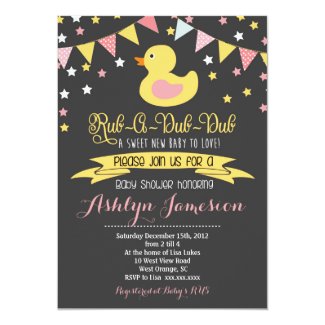 Rubber Ducky Baby Shower Invitations
There are many invitations you can buy with ducks and wordings are also included. However if there aren't any, you can maybe use the following wording:
Ashley's so lucky, she's having a ducky!
Splish Splash, come join the party!
Here are some other invitations cards you can use.  Remember you can always make your own invitation cards if you are on a budget.  Check out Ducky Duck – Baby Shower Fill In Invitations
Rubber Ducky Baby Shower Decorations
To decorate the room or hall, balloons are always a good idea, use blue and clear balloons to look like soap bubbles. Paper plates, cups and napkins in the duck theme would be lovely. This will help very much on your décor.  Here are some party supplies you can use; rubber duck tableware or rubber ducky party kit.
Every party needs at least one of these; streamers, garlands, tissue poms poms or paper lanterns.  This is an easy way to enhance the decorations for the party at a minimum cost.  Some of these decorations can also be handmade if you have the time.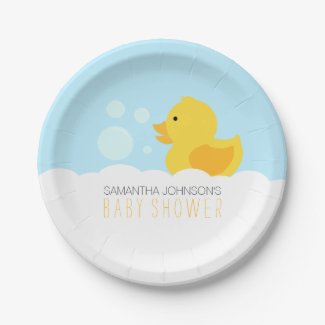 Rubber Ducky Baby Shower Paper Plates 
 If you want to go more simple and something less expensive, you can always go with these
polka dot tableware
;
You can also add duck plush toys and spread around some confetti around to add some more ducky feel.
As per picture below, this is a cute way of decorating your tables. If you want to recreate this, you can find these blue gel beads here and most probably you can find these small bowls at your local dollar store.  The mini ducks are found here.
You can always add rubber ducky baby shower confetti on your main table such as the dessert table or on each guest table.  You can also use these to make some other decorations or thank you cards/tags.
Garlands can be used everywhere, same as balloons, here is a pretty garland with yellow and grey colors.
Rubber Ducky Baby Shower Ideas
On the buffet or candy table you can buy an inflatable duck tub and fill them with guest favors and add few mini rubber ducks for accent (like mother and her little babies).  The tub then can be used by mommy afterwards.
The gift table can be also decorated with a baby bath with duck and/or bath theme presents: burp cloths, wash cloths clothes, baby items…
A wonderful centerpiece for a rubber ducky theme baby shower is a glass container filled with water (with a dash of blue food coloring) and have a rubber ducky floating or mini duck candles. Duck shaped soaps can be added on table and used party favor giveaways. Other favors can be bubble bath, bath salts or duck shaped candles.
Ducky Honeycomb Baby Shower Centerpiece – 9 3/4″ high x 9″ wide
Rubber Ducky Baby Shower Food
One food idea would be to use a punch bowl, but instead use blue Hawaiian punch with some 7-up or carbonated water. Instead of a punch bowl you can use a dispenser.
Ducky Cupcake Picks
Polka Dot Cupcake Wrappers
Cupcakes can be easily made and decorated with pretty
cupcake paper cups
 and icing can be blue to simulate water and add duck picks, so it would be like the baby duck is swimming.  Here are some ideas;
You can also make a cake in a shape of a duck, found
here
.
Another easy food item would be cookies in shape of a duck.  Decorate them in the same color scheme and these can be also a perfect favor for the guests when they leave.  You can also use the duck cookie cutters to cut out sandwiches on that shape.
Recreate these cute ducky baby shower cookies for your next baby shower with the above cookie cutter set.
When creating food items, always put the little cards indicating what type of food it is. You can write them or print them out.
For a girl shower, here
 is an adorable pink rubber ducky theme baby shower cake. Hope this creates some ideas!  The little yellow and pink duckies are found here;

Rubber Ducky Baby Shower Favors
There are  many cute favors you can buy and make.  A simple on is putting sweet tart candy ducks in a clear plastic favor bag, tied in a duck ribbon. You can print and cut out simple tags to add an extra touch as shown in picture below. You can also get 1 bl of bulk sweet tart duck candy in yellow only here.
Add cute baby shower stickers to your favors; one of my favorites are;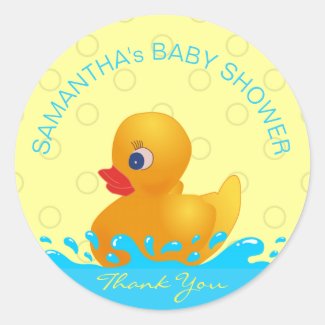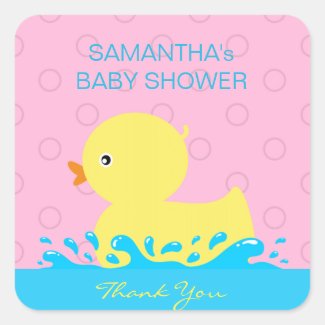 Blue Yellow Rubber Ducky Baby Shower Stickers     Rubber Ducky Stickers – Pink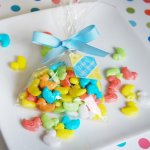 Bulk Duck Sweet Tart Candy
Another idea for a favor would be little duck soaps, here is an example, pre-packaged for you. They are $2 each.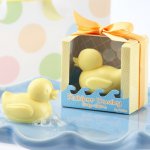 Rubber Ducky Soap
Ducky Baby Shower Diaper Cake
What will a baby party be without a cute baby shower diaper cake.  There are many to chose from. You can find many online or you can get creative and make your own.
Rubber Ducky Baby Shower Mini Diaper Cakes – set of 4
Here is a pretty 2-tier diaper cake which comes with Johnson & Johnson products, receiving blankets, sponge, washcloth, bottle brush…  It's about 13 inches high, so if you think it's too small for your centerpiece table, you can always place it on a decorative box to elevate it (just take a plain box, or shoe box and wrap it with nice theme paper).
Ducky Baby Shower Diaper Cake
Rubber Ducky Baby Shower Games
Printable Rubber Ducky Baby Shower Games
An example of a game would be putting as many items as possible on a tray or even the baby's bath tub, and show each guest the items for few seconds. Each guest will have a pen and paper, when the last guest looks at the item, the hostess says 'start now' then each guest writes down all the items they can remember.  You can give them maybe a minute to write this items.  The one that has the most listed items is the winner. Here are some items you can use:
BATHROBE
BATHTOY
BATHTUB
BOAT
BUBBLES
RUBBER DUCKY
SHAMPOO
SOAP
SPONGE
TOWEL
WASHCLOTH
LOTION
BOTTLE BRUSH
Here are more baby shower game ideas you can chose from.
Ideas are endless but hope these ones are helpful to you. If you are contemplating if you should chose this theme, don't worry rubber ducky baby shower theme is always a great hit!  Have any other ideas? Would love to hear them!
Rubber Ducky Baby Shower Corsage
Back to –> Baby Shower Themes