If the father (or mommy, yes girls also like sports!) is into a certain sport, a sports theme can be a great choice. Luckily you have chosen a theme that even the boys will be glad to participate! Ok, so there are many sports theme baby shower ideas, I have listed a few.
The most popular sports would be football, baseball, soccer, basketball and hockey. If one of the parents has a favorite team, even better! Work around that teams color hues.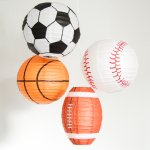 Sports Theme Baby Shower Invitations
Invitations can be obviously based on the theme sport you chose. A great invitation card idea is a ticket format (just like the ones at a sports game). Or another idea, would be: It's an All Star Baby Shower! You can make it more fun and add on the invitations that guests are asked to dress up in Jersey's and other sport gear (don't worry if they don't have I'm sure they can ask their friends, family or neighbors).
Sports Theme Baby Shower COLLECTION
If the card has no wording, you can write something like this;
Mary and John scored
Their first member of the team
The game is on Saturday, so
Wear a jersey and cap!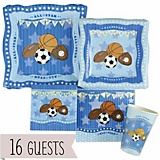 All Star Sports – Baby Shower Tableware Bundle 
Sports Baby Shower Favors
Here are some great sports baby shower stickers you can use with your sports theme baby shower favors (football, soccer, basketball and baseball).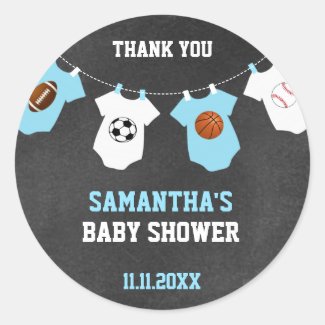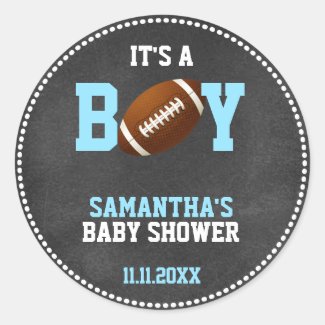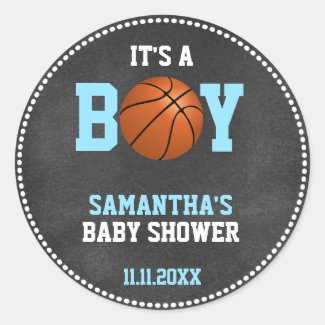 Sports Baby Shower                        Football                            Basketball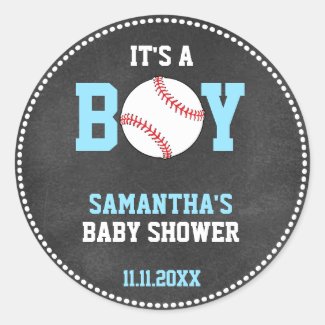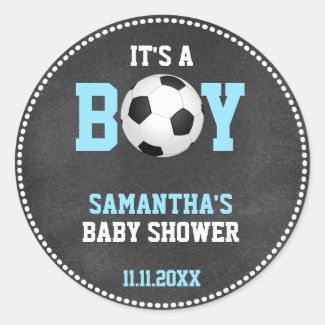 Sports Theme Baby Shower Supplies
Use sports objects for your decorations. There are also many decorations you can buy online for the specific sports theme baby shower. A great idea would be to create a score board (like a football one) that shows due date, baby name, etc…
Like many decors for baby showers, balloons are always a good idea and they are also inexpensive to buy. Here are some sports themed ones you can use.
 Sports Baby Shower Food Ideas
As you can tell this will be a casual baby shower so BBQ would be a good idea if outdoors. If indoors, then why not pizza, popcorn, corn dogs, just like at the games. Alcohol is a choice done by the hostess. Usually a sport themed shower includes the boys, so it would be acceptable. And hey, what is a game without some beer!  Desserts are good to have, some cookies in shape of a football, soccer, or baseball.
All Star Sports Cookie Cutter Set
Or how about some delicious cupcakes.  These cupcakes can be easily made with some simple cake mix and frosting. Add some sports cupcake wrappers to decorate them.
Batter Up – Baseball – Baby Shower Cupcake Wrappers
Sports Theme Baby Shower Games

Printable Sports Theme Baby Shower Games
Games are the exciting part of the party.  There are so many games you can chose from. A great competitive game is to find out when the baby will be due, what will the baby weight be, etc… This is always popular with the men at the party as usually men are very competitive (and they can bet on this one).  Here are some more games.  Sports theme baby shower is one of the boys favorite, so if you are planning a co-ed baby shower party, this is surely one that they will like!

Football – 20 Piece Photo Booth Props Kit

Baseball – Personalized Baby Shower Game Bingo Cards – 16 ct