A tea party is a wonderful way to celebrate the coming of an expecting child. This is one I consider a good choice for not only when she is expecting a girl, but for a unisex theme.
A tea party would be great in the summer time. Tables can be set up outside and simple decorations can be added (on the left is a beautiful tea party baby shower diaper cake)
To spark up some more tea party baby shower ideas for you, here are a few type of tea parties that can help you start being creative;
Royal Tea Party
Shabby Chic Garden
Alice in Wonderland
Mad hatter
Vintage
A Baby is Brewing
Baby Shower Tea Party Invitations
Invitations can be created or bought. Tea cups and saucers can be shown on the cards to give invitees a hint of the baby shower theme. Here are samples of  pretty tea party invitation cards;
TEA PARTY BABY SHOWER INVITATIONS
Here are Vintage Alice in Wonderland, Mad Hatter Baby Shower Invitation Cards
ALICE IN WONDERLAND Baby Shower Invites
If card is blank, wording for a tea party themed baby shower can be something like:
A cup of tea
for mommy-to-be
Join us for a great tea party
The time is at three!
Baby Shower Tea Party Decorations
Tea Party Baby Shower Plates – Pack of 12
Have a nice setting with tea party baby shower plates and napkins.  Add some vases with fresh flowers or tea pots.  Buy china tea cup sets (find cheap ones at second hand stores /goodwill).
Tea Party Baby Shower Napkins – pack of 30
Bake some cute cupcakes, or buy them at your local bakery.  Get some pretty doily type cupcake wrappers.  Cute stands completes the dessert table.  Don't forget the matching tablecloth!  I used once the below bird cage stand to display small favors. It was a hit!
Tea Party Baby Shower Cupcake Stand      Tea Party Bird Cage Stand
If you do not have doillies, you don't have a tea party.  This I think are a must and add some much to the theme.  Add them on the tables, wrap the silverware with them, make some crafts / decorations with them….possibilities are endless.
Decorate more with these cute food picks with lovely sayings; Eat me, Yummy, Absolutely Scrumptious, Take One, Delectable, Do Try One.  All in themed colored with flowers.
Tea Party Vintage Paper Decorations
Banners with floral prints can be hanged to everything, from tables, to ceilings, to walls.  Cheap and simple to use.
Color and pattern coordinate all your decor with these set of lanterns.

Tea Party Lanterns
Decoration can be very simple with shades of pastel colors, vases with flowers in them can be used as centerpieces and antique tea cups would be a nice touch to add.
tea party baby shower decoration
Cupcake Stand with Crystals
Alice in Wonderland Baby Shower 
A popular theme for tea parties are Alice in Wonderland.  You can hire an event planner or you can recreate it on your own.  Here are few pictures you can use as reference. If you are looking for Alice in Wonderland decorations you can find them HERE.
Have lots of clocks, tea kettles, flowers and cups.  Table runner made of fake grass, fresh flowers for the centerpieces. Love the checkerboard cupcake wrappers.
image credit @mirrormirrordesigns
Tea Party Baby Shower Favors
Chocolate is always welcomed at showers.  You can buy these clever stickers with some sayings and tea pot pictures.  Can be used for anything;
Tea Party Baby Shower Stickers
Favors can be small teapots with specialized individually teas in sachet or personalized tea candles or tea bags.
tea party baby shower favor tags
What about a tea infuser?  This is a great little gift that the lady will use time and time again.

Personalized Tea Time Heart Shaped Tea Infuser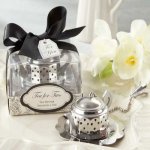 Mini Teapot Tea Infuser
Here are more baby shower favor ideas.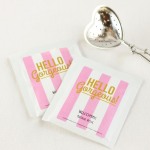 Personalized Baby Shower Tea Bags
          
Tea Party Baby Shower Food
Finger sandwiches, tea cookies, and many varieties of tea can be some of the food items served at this tea party baby shower theme. A cake shaped as a tea pot can be baked.

Tea Party Baby Shower Ideas
Don't forget to take lots of pics when you throw this lavishing party!  Here are cute prop sticks for everyone to hold and take some nice pictures with the mom-to-be.
Tea Party Baby Shower Stick Prop