A western theme baby shower can actually be used for a boy and for a girl, yup cowboy or cowgirl!  There are cute country western baby shower decorations that can add so much to your party.
If you have chosen this western theme, ask your guests to participate and have them wear something western like cowboy hats, denim jeans, bandanas or cowboy boots.
This is especially fun for coed baby showers. Can you picture already the men in cowboy boots and hats!
Suggested Colors:
Boy: Dark Red and Brown
Girl: Pink and Brown
Western Baby Shower Invitations
Theme invitations give guests an idea what the baby shower will be all about.
Your card can be in a shape of cowboy hat, or graphics of horses, cowboys, cactus, etc… The invitations can also be phrased with western style words, font and terminology to make it more of a western feel.  You can make the invitation in a form poster and use the word WANTED.
Western Baby Shower Plates
Now that the theme has been picked, you can quickly get organized as there are many stores that cater to specific baby shower party supplies.  Here are my favorite for cowboy and cowgirls!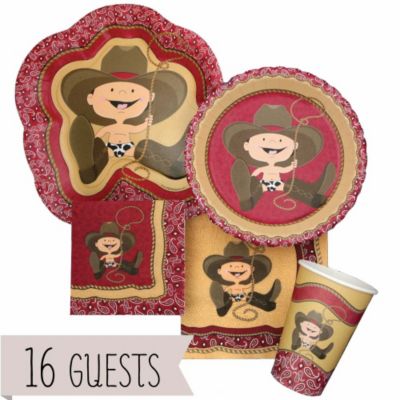 Little Cowboy – Baby Shower Bundle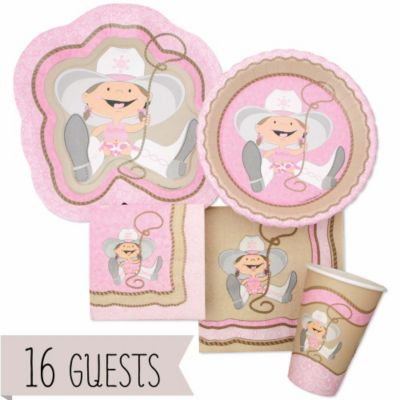 Little Cowgirl – Baby Shower Bundle 
Western Baby Shower Decorations
A western themed baby shower has staple decorations and props that make a party feel like back in the old west.
To decorate the room or backyard, here are some things you can put around to get the feel of the theme:
Cowboy hats
Cowboy boots
Bandanna
Gloves
Hay bales / straw
Barbed wire
Saddles
Horseshoes
Chaps
Cactus
Spurs
Cow bells
Lassos
Rope or twine
Horse, cow, bulls
Wagon
Wine barrel
Gold coins (made of plastic or those chocolate coins covered in gold foil)

To add some more final touches, add some wildflowers, sunflowers or daisies.
Checkered white and red material for table cloth or other decor is also western related.
Streamers in red bandannas is a cute idea.  These can be placed all around the room and at the front of the buffet or candy table.
I would also go with tons of
balloons
and maybe even tissue pom poms.  Even though I love paper lanterns I think for this theme I would pass.
A great idea would be to make tassels (from rope or other brown material) and attach them to a cord to make a banner.
Western Baby Shower Ideas
And this my favorite, Put up some "wanted" posters around the room. For example WANTED…This Baby to be Born! WANTED…Mary to be a Mom! or REWARD …. for DADDY of the Year or something like that.
Have a hay bales with some rope and other cowboy items all around the venue.
Western Baby Shower Centerpieces
Table centerpieces can be real cacti plants that can be rented from florists or gardeners' shops or you can buy some.
You can add hay in a vase and then attach balloons with helium.
A cheap and cute centerpiece is use your aluminum cans (such as from soups or beans) then wrap it with twine or rope. You can so it completely wrapped or only in the middle (for about 2 inches or so). You can also wrap a bit of a red bandanna. Add some fresh flowers and you have a beautiful cheap centerpiece!
Diaper Cakes are also a good centerpiece idea.
Western Baby Shower Favors
Chocolate gold coins wrapped in cellophane favor bags tied with rope/twine.
Or you can make your own cookies in the form of boots and hats. Decorate them with icing and you've got yourself nice edible favors for your guests.
Cowboy Hat Cookie Cutter
Cowboy Boot Cookie Cutter
Western Baby Shower Food Ideas
How about a tex-mex menu or self-serve buffet bar. Also a BBQ will be perfect for this theme.
Alcohol is usually not served at a baby shower but if you chose to be a couple's baby shower, few beers for the boys won't hurt.
Western Baby Shower Games
The games that you might want to have during the party would be likely theme related. There are many basic games that can be turned to western style games by just substituting the items used with western themes.
How about Horseshoes that can be played outdoors (great for the men)
Sack Race:
Divide your guests into two equal teams. Give each team a bag that they step into and have them race to a specified distance and back. Continue until one team has completely finished. The one team who finishes first wins.
Or
Have couples go together, they step into one bag (each one foot only).
As you can see western theme can be much fun for mommy-to-be, daddy-to-be and guests!  Hope you loved all the western baby shower decorations and ideas!  Do you have some to share?