Some people tend not to select baby shower themes but this is one of the mistakes of the hostess. Choosing a theme is the best way to get organized. It starts from invitations, to decoration, all the way to what food and favors to choose. Just remember without a theme you are likely to pick several items that when combined gets an unorganized look. Here are some free baby shower theme ideas we have put together by category. They are modern, cute, classy, chic, original and creative. Depending on what you chose as a theme, surely it will be most popular, cool and fun baby shower themes! Note that some themes can be used for both boy and girl (you be the judge). So here we go a list of unique baby shower theme ideas !!!
Click HERE for all decorations by theme.
 UNIQUE, COOL AND ORIGINAL THEMES
"Ready to Pop"
"You are my Sunshine"
"Bear Necessities"
"Couples Shower"
"Brunch"
"Ladies Luncheon"
"Pamper Mom"
"Diaper Creations"
"Scrapbooking Party"
" Help Decorate The Nursery"
"What's In A Name?"
"Books For Baby"
"Baby Essentials"
"All About Mom"
"Meals For Mom"
"Sweet Pea"
"Showers Of Happiness"
"Special Delivery"
"Baby Is Brewing"
"Bun In The Oven"
"A Star Is Born"
"Cute As A Button"
"Baby To Bee"
"Mommy's Nesting"
"Little Peanut"
 ANIMALS
Most animal and insect themes can be used both for a girl or a boy. However Ladybugs, lamb, butterfly would be for a girl and lion, frog, elephant would be more suited for a boy. Here are some that we have found that been used in themed baby showers.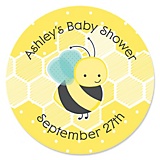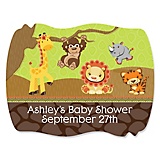 Safari
Butterfly
farm animal
zoo animal
bird
Fisher Price Rainforest
bee
bug
Chicks
Elephant
frog
fish
farm
giraffe
jungle
ladybug
lion
lamb
Monkey
puppy
Rubber Ducky
turtle
teddy bear
zebra
zoo
Storks
Honeybees
Critters
Rabbits
SPORTS
Obvious theme for a boy and especially for co-ed parties. Check out more info at our sports page
Basketball
Baseball
Football
Soccer
Golf
MODERN AND FUN
Hollywood
Mod Mom
OUTDOOR
If you are having a baby shower in the summer or late spring, these are great ideas that can bring everyone out on a nice sunny day!
Beach
Luau
Garden party
Hawaiian
Tropical
Tea Party
CHARACTERS AND FAIRYTALES
Storybook, fairytale or cartoon characters are a great theme for baby showers. Next step is to find themed decorations in the store or online.
Superhero
Winnie the Pooh
Baby Mickey/Minnie Mouse
Sesame Street
Tweety Bird
Disney Princesses
Tinkerbell
Toy Story
Cinderella
Snoopy
Dr. Seuss
Baby Einstein
UNISEX THEMES
Green or yellow (pastel neutral colors)
Fisher Price Jungle/Safari
Sun, Moon & Stars
Diaper Shower
Nursery Rhymes
Cupcake
Noah's Ark
Baby's First
Baby Feet
Clothesline
Old Fashioned Toys
ABC's
Baby Blocks
Care Bears
Carousel Horses
Baby Lamb
Baby Footprints
Pickles & Ice Cream
Nesting
Angel
Forest
library
Story book or book themed baby shower
Umbrella
Vintage
Woodland
BABY SHOWER THEMES FOR BOYS
Check out more here…baby shower themes for boys
Little Man
Blue and brown
Boat
Circus
Construction
Sports
Red wagon
Fire Engine / Fireman
Cars and Trucks
Airplanes
Western/Cowboy
Little Prince
Ocean
Nautical
Old MacDonald/Barnyard Animals/Farm Animals
Puppy Dogs
"Ahoy – It's a Boy"
Under the sea
Sailboats
Space/Astronauts
Trains
BABY SHOWER THEMES FOR GIRLS
Pink and brown
Hot Pink and Lime
Roses
Daisies
Butterflies
Flowers
Hello Kitty
Cow Girl
Precious Moments
Princess
Strawberry Shortcake
My Little Pony
Polka dot
Baby Carriages
Tutu
TWINS
Noah's Ark "Two by Two"
Two Peas in a Pod
Double your Fun
Diaper Shower
The possibility are endless, there are hundreds of unique baby shower theme ideas that can wow any mommy-to-be and guests. We have many unique baby shower themes that can help you so use our search button and find the theme you are looking for!
SEASONS
How about a seasonal theme, to match the season. This is a big hit when the baby is due close to a holiday. A winter theme could be: Christmas or even a winter wonderland theme? Independence Day: Decorations can be red, white, and blue. Valentine's Day with red, white, and pink; and lots of hearts! etc. It's up to your creativity and imagination
Halloween
Fall/Autumn
Little Pumpkin or "Lil Pumpkin"
April Shower
Winter Wonderland
Baby snow
Christmas
Spring
Fourth of July
Valentine